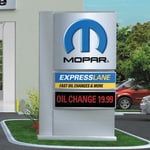 When it comes to taking care of your tires, you will want to make sure that your investment is safeguarded. A lot can go wrong with the tires and wheels on your Chrysler because you have no control over hazardous road conditions at the time. The following road hazard tire and wheel protection can cover you for a term of between two and seven years.
Many modern Chrysler's have a sensor gauge that constantly monitors the tire pressure on your vehicle. This is certainly handy to have, but not easy to fix if broken or damaged. This protection package will cover the cost of such a replacement if damaged because of a road hazard.
You will also find that any damage caused by a curb or pothole will be covered as well. This will give you peace of mind to know that you will not have to fork over a lot of money if your tires or wheels are damaged. Contact Westgate Chrysler Jeep Dodge Ram when you need to schedule a service appointment for your Chrysler.